Review - A Sprinkle of Sorcery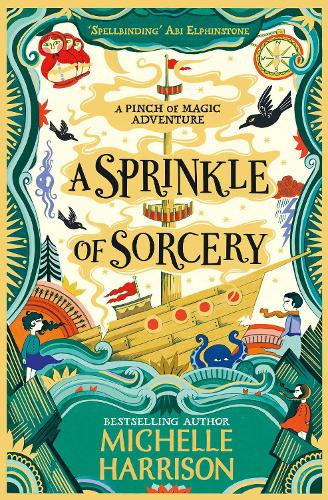 A Sprinkle of Sorcery by Michelle Harrison
The family curse has been lifted and the Widdershins sisters: Betty, Fliss and Charlie are free to leave the misty prison isle of Crowstone. But when a mysterious girl arrives at the Poacher's Pocket with a pocketful of hagstones and accompanied by a will-o'-the-wisp, it seems another adventure has landed on their doorstep. And when Charlie goes missing, it's up to Betty and Fliss to journey through misty marches, past wisp catchers and on to a secret island that doesn't exist on any map...
With a pinch of magic and a sprinkle of sorcery, Michelle Harrison has mixed up a delicious tale of fairytales, pirate adventures, hidden islands, magical creatures, enchanted items, deadly peril, courage and three of the best sisters you'll find in literature.
I adored a Pinch of Magic, but if anything, this sequel is even better. The Widdershins sisters are simply fabulous. It's a wonderful depiction of sisterhood, with both the love and support and the squabbling and disagreements. They're becoming more fully developed characters with each book, and it's great to see new facets of their character. There's fear and bravery mixed together, and the fact that you sometimes see their hesitation and trepidation makes their courage all the more striking and believable. They don't just rush into danger, they consider it, get scared, and then rush into danger anyway.
And what danger it is! There's a fantastic cast of pirates and ghosts and witches. There are spooky legends and challenging trials. The challenges the girls face really capture that classic fantasy feel and give the book a timeless quality. A Sprinkle of Sorcery takes the action away from Crowstone, and it's great to see new parts of Michelle Harrison's fascinating world, though it's still centred around the same group of islands giving it a strong sense of continuity.
I loved returning to the Poacher's Pocket, and I found the further adventures of the Widdershins absolutely enthralling.
The cover, by Melissa Castrillon, is also absolutely gorgeous! I can't wait to get hold of a physical copy.
I'm giving A Sprinkle of Sorcery five full moons. A magical adventure!
🌕🌕🌕🌕🌕